The winter season is approaching. You may have noticed that most people wearing black, brown and gray coat or trousers. These dark colors make it become essential to enhance individual overall appearance with a piece of shinning jewelry!
Jewelry can provide a pop of color and bring a sense of joy and brightness to your winter wardrobe.
Today, we will recommend 5 types of jewelry in trend for you.
Pearls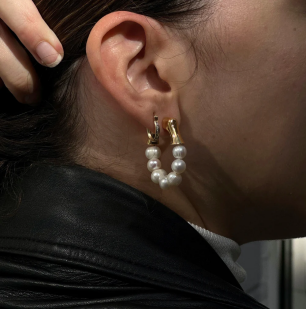 Pearl jewelry always looks great in the darker tones commonly seen in winter.
Classic white pearls can provide a timeless and elegant look that complements well with the neutral and cool tones often worn during winter.
Alternatively, there are many other pearl colors you can choose, such as champagne, gray, or natural-colored pearls, which adds a stylish touch to your ensemble.
Classic pearl studs are a versatile and never be outdated, can be worn with any winter outfit. Drop earrings or dangle earrings with pearls can provide an elegant and elongating effect, particularly when layered with scarves or turtlenecks.
The metal setting of the pearl earrings often come in silver or gold settings, which can provide an elegant but contemporary look. If you prefer a warmer tone, yellow gold or rose gold settings can be better.
Statement Necklaces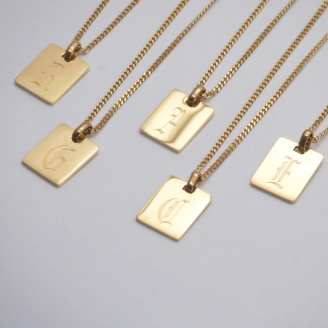 During the winter season, many people opt for statement necklaces that feature bold and chunky designs with intricate details or sizable pendants. These necklaces serve as a focal point when layered with outfits, capturing attention towards the neckline and created a fashionable and captivating appearance.
Many will layer it over sweaters or turtlenecks, the contrast between a warm, soft clothe and the eye-catching necklace can create a stylish and balanced look for you. Furthermore, if you're wearing a black or dark-colored coat or sweater, choose a statement necklace with gemstones, beads, or metallic accents, it will stand out against the dark background, adding a touch of glamour and visual intrigue.
Gemstone Jewelry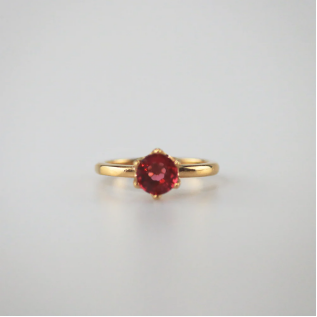 Whether it's a pair of gemstone earrings, a pendant, or a ring, the charm of gemstones can bring a sense of luxury and sophistication to your winter outfit. On the other hand, gemstone have a wide array of colors, such as deep red rubies, emerald greens, sapphire blues, or amethyst purples, can provide a striking contrast against the cloudy sky and bleak environment.
If you're wearing scarves or turtlenecks to keep warm, use gemstone jewelry to accentuate these winter accessories will be great. Gemstones of similar colors or complementary hues can create a harmonious and well-coordinated look.
Bracelets (Chunky, Cuff, Charm )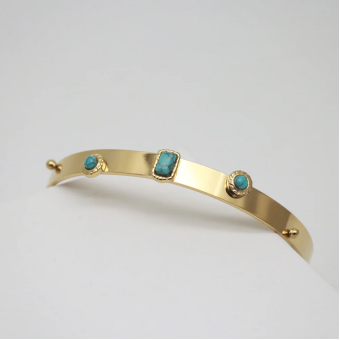 Chunky or cuff bracelets that can create a strong impact and provide a cozy element to your winter outfits. Bracelets with thicker bands or substantial metalwork can create a visually striking effect. These bracelets can be worn alone as a standout piece or stack them with other bracelets to create a fashionable and on-trend look.
Charm bracelet with winter-themed charms, such as snowflakes, mittens, or snowmen fits the season perfectly. Charms that hold personal meaning or represent your interests can make a unique and meaningful winter accessory.
Small Huggie Earrings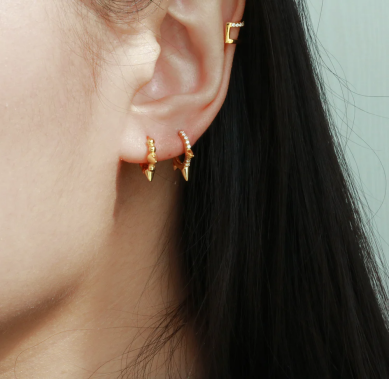 Small Huggies are an ideal choice to adorn your earlobes during winter, as they won't get tangled in hair, scarves or weathers. perfect fit for your personal style.
Smaller-sized hoops that hug the earlobe closely for a refined and sophisticated appearance can be put in your winter jewelry shopping list.
Opt for metals like silver or white gold for a cool and icy look, or go for gold or rose gold for a warm and luxurious feel. If you want to experiment with a bolder look, try pairing your huggie earrings with ear cuffs or ear climbers. They can add an extra element of style and create a statement-making winter look. Whether you prefer a minimalistic look or enjoy experimenting with various styles, huggie earrings can add a touch of classic to your winter outfits.
Winter may be cold, but by adorning yourself with beautiful and dazzling jewelry, along with cozy garments, you can fashionably express your preferences, taste, and hobbies. The right jewelry has the power to elevate your style and make a statement, whether it's a statement necklace, a pair of exquisite earrings that catch the light with every movement, a stunning bracelet that adds a touch of sophistication to your wrist, or a unique ring that symbolizes your personal journey. I hope that exploring these five types of jewelry will assist you in selecting the perfect piece that not only complements your winter wardrobe but also resonates with your individuality and brings you joy every time you wear it.