The atmosphere is brimming with enthusiasm as the highly awaited annual shopping extravaganza, Black Friday, draws near! Whether you're a fan of jewelry or on the hunt for gifts, this is the ideal moment to deck yourself out or pleasantly surprise your dear ones with radiant pieces that gleam as brilliantly as the yearly holiday.
In 2023, the jewelry trends on Black Friday showcase a fusion of timeless classic and modern style. We carefully selected some pieces that includes understated geometric designs, radiant pearl embellishments, and vintage-inspired statement accessories that are bound to enchant you. You can embrace the latest jewelry fashion to express your unique style. At the same time, your metal and gemstone preferences, and major designs that can harmonize with your individuality and fashion taste is of high significance,
Here are some perfect pieces we carefully selected for you as a gift for your best girlfriend:
Statement Muti-gem Band Ring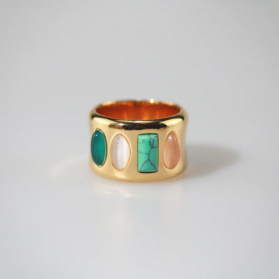 This exquisite piece of jewelry features an array of colorful gemstones set in an elegant design, creating a captivating and eye-catching accessory. With its vibrant and diverse gemstones, especially the rectangular green turquoise as its focal point, it symbolizes the different facets of your relationship and the unique qualities that make your girlfriend special. This thoughtful gift not only adds a touch of glamour to her style but also conveys your appreciation and affection for her in a meaningful and beautiful way.
The ring's base metal is brass and 18k gold-plated, which means it has a long-standing golden shine and sturdy base, your girlfriend can wear it an long as your everlasting relationship!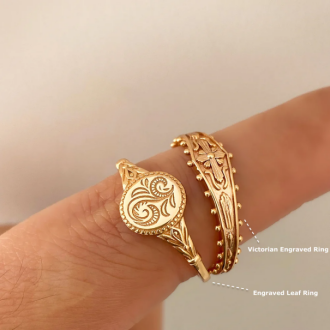 This 1850s vintage-inspired gold ring exudes the essence of Victorian decor. Its intricately engraved design features a cross-like flower pattern positioned at the center, surrounded by delicate, ornate details. The addition of tiny beads along the top and bottom of the ring enhances its overall sophistication, transporting you back to the opulent and elegant style of the 19th century.
The second ring features a classic signet style, typically made of precious metals sterling silver, with a design that incorporates intricately detailed leaf. It not only serves as a beautiful accessory but also symbolizes the enduring bond of your relationship, making it a gift that your beloved/best friend will treasure for years to come.
With a sterling silver base metal, this ring is 10k gold plated, these two similar but each with its unique charm, is a perfect gift for your girlfriend. Besides, if you are seeking a high-end appearance and a luxurious look of solid gold, they may be your first consideration. And sterling silver is typically hypoallergenic, you don't need to worry about allergy.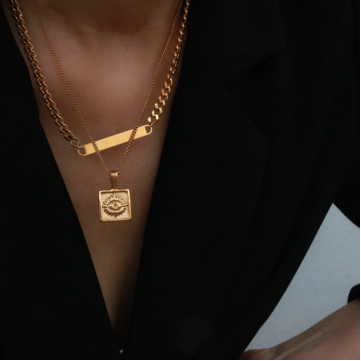 18k gold-plated, stainless steel base
This evil eye necklace is a captivating and meaningful gift to show your best girlfriend how much you care about her. The exquisite piece of jewelry features a striking pendant, crafted with intricate detail and vibrant gold color. The central design resembles an evil eye, which is believed to protect the wearer from negative energy and negative emotions.
This necklace can not only adds a touch of elegance to her outfit but also serves as a talisman, guarding her from envious looks and bad things. This gift is a beautiful way to express your love and desire for her well-being, demonstrating your thoughtfulness and commitment to her happiness.
Double Pearl Hoop Earrings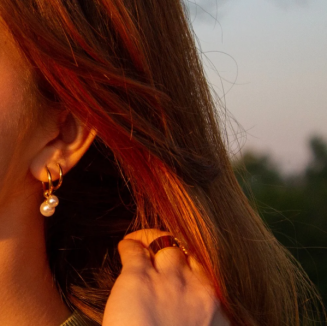 Crafted with precision and attention to detail, this hoop earrings feature not one, but two lustrous pearls gracefully suspended from each hoop.The pearls, known for their timeless beauty and purity, represent the enduring love and connection you share with your girlfriend. Whether she's dressing up for a special occasion or her everyday attire, these earrings will be her go-to choice, enhancing her beauty and confidence. Simple but elegant, let this pair of earrings express your love and appreciation for your girlfriend in a way that words alone cannot.
Crafted with sterling silver as base metal, decorated by 5 garnet gemstones, and each setted with two white zircons. This one can be a thoughtful gift for your girlfriend. Garnet is a stunning gemstone known for its deep red color and symbolic meaning of love and passion. The clasp is secure and easy to use, ensuring that the bracelet stays comfortably on her wrist.
Well, there still have countless jewelry with various style, design, material for this shopping holiday.
The reason why we recommend these five pieces is that we always provide high-quality, budget-friendly and trendy jewelry with exquisite design, you absolutely can choose the one that can highlight her beauty and elegance most. If you are seeking a ring or a necklace that she can wear almost everyday, here it is! Our online jewelry store provide a superb collection of beautiful jewelry with the most fashionable design and exquisite workmanship.
Please click any word of this phrase to visit our online store! Pick the best for her!