A suitable necklace can make your outfit look great and draw attention to certain parts of your body. Understanding how necklace lengths work with your body proportions is important. We'll guide you through it, starting with figuring out standard lengths and how they fit on your body.
How to Choose the Right Necklace?
First of all, you need to know the necklace length.
Necklaces come in different lengths, from short chokers to longer chains, and each length affects how the necklace looks on your neck and chest. Understanding these variations helps you make wise choices that match your personal style and body proportions.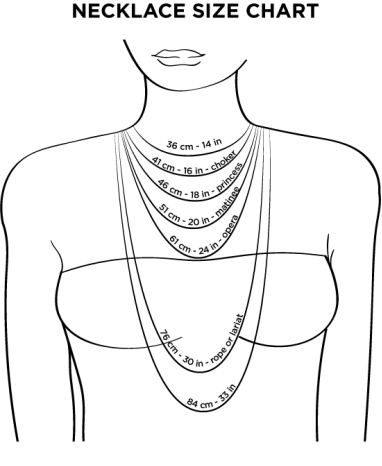 14 inches: Collar Style
Fits tightly around the neck.
Best with open-neck clothing like scoop necks, V-necks, off-the-shoulder, and boat necks.
16 inches: Choker Style
Sits tight against the base of the throat.
Suitable for almost all outfits except turtlenecks and high crew necks.
18 inches: Princess Style
Rests on the collarbone.
Ideal for crew neck, high-neck styles, and plunging necklines.
20 to 24 inches: Matinee Style
Positioned between the collarbone and the bust.
Versatile, suitable for both business and casual wear.
28 to 36 inches: Opera Style
Placed on the bust or an inch or two below.
Perfect with high necklines and evening wear.
36 to 42 inches: Rope Style
Wrapped to sit on or just below the center of the bust.
Ideal for elegant business and evening wear.
Choosing the appropriate necklace size is entirely determined by individual taste and preferences. Besides, it is important to consider some factors when selecting your favorite types of necklaces.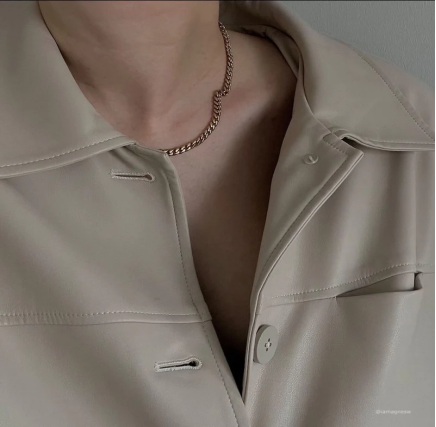 What are the factors need to consider?
Measure the circumference of your neck to determine its size accurately. People with longer necks may discover that lengthier necklaces are more balanced, whereas those with shorter necks might choose shorter necklace styles.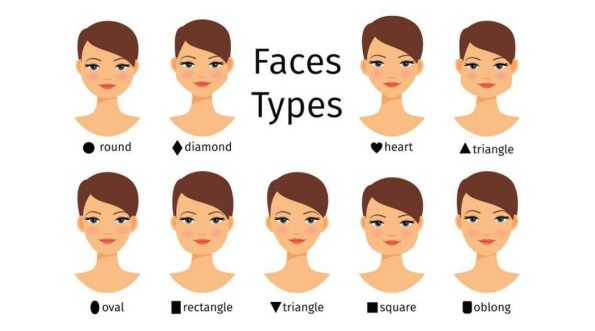 Round Face: Longer necklaces, necklaces with geometric and angular shapes help elongate the face. Necklaces with a V or Y shape provide the optical illusion of elongation, helping to offset the roundness and create a more balanced appearance.
Oval Face: Oval faces are versatile and can effortlessly complement necklace styles well.
Diamond Face: You can highlight your cheekbones and make your chin look softer by wearing necklaces that are princess-length or longer. Avoid necklace styles that make your cheekbones look wider.
Rectangular or Oblong Face: Make your face look a bit wider by wearing shorter and wider necklaces. Chokers, collar necklaces, or short bib necklaces can help balance the length of your face.
Triangular Face: Make the jawline look gentler by wearing shorter necklaces that sit higher on the neck. Chokers and collar necklaces can attract attention upward.
Heart-Shaped Face: Balance a heart-shaped face with short necklaces such as chokers or collar necklaces. Avoid pointed pendant styles that draw attention to the narrowest part of the face.
Square Face: Necklaces with longer lengths can soften the angles of a square-shaped face. Princess-length or longer, layered necklaces can help elongate the face and add a touch of femininity.
Pear-Shaped Face: Balance a narrower forehead with wider necklaces or chokers. Y-shaped necklaces or styles that draw attention to the upper part of the face work well.
For those with narrower necks, a shorter chain may hang slightly lower than the typical length. For instance, a 16-inch chain might seem to drape at the 17 or 18-inch mark on a slender neck.
Conversely, individuals with thicker necks may experience the opposite effect—a longer chain can make the necklace appear shorter. In such cases, it's advisable to opt for the next longer length to attain the desired style while ensuring comfort.
Individuals with broader shoulders may find that longer necklace lengths balance their proportions better, while those with narrower shoulders might opt for shorter styles.
If your skin is sensitive and you want a durable piece, choose metals that are hypoallergenic, like stainless steel or titanium.
Warm undertones: metals like gold (yellow or rose gold) can complement your skin beautifully.
Cool undertones: metals like silver (including white gold) or platinum tend to work well.
A V-shaped necklace can be particularly suitable for individuals with strong shoulders or a large bust. The downward-pointing V shape can help elongate the neckline and draw attention away from a broader shoulder line. Traditional rounded necklaces, especially in shorter lengths, can make smaller shoulders or a less prominent bust look more interesting and fuller. The straight line they form can visually broaden the upper chest, achieving a more balanced appearance.
How can I figure out my necklace size?
Take a piece of string or a flexible measuring tape and place it around your neck, allowing it to sit at the desired length. Measure the string or tape, and that measurement will give you an idea of the necklace size that suits you. Alternatively, you can visit a jeweler and try on different lengths to see which one looks and feels best for you.
The ideal necklace length varies based on your face shape, neck and shoulder size, and the necklace shape. You just need to find what suits you best. Use the mentioned measuring tips or visit a jeweler to try on different lengths. Everyone has their own style!