For people who like wearing gemstone jewelry and would like to keep them in care condition for years, know how to clean gemstone jewelry is very important. For almost all gems, like Amazonite, Jade, Malachite , Sapphires, rubies, and so on, mild detergent, warm water, and a soft brush are a good start. And the whole process is easy and won't take very long.
Before Cleaning, Know Your Gemstones
Different gemstones have different physical properties, some are heat sensitive, some may react to chemicals. Before you start, please make sure your gemstones are properly identified.
But whatever your gemstone is, warm water, mild detergent and soft brush are the softest cleaning materials for almost all gems.
Cleaning Gemstone Jewelry at Home Step by Step: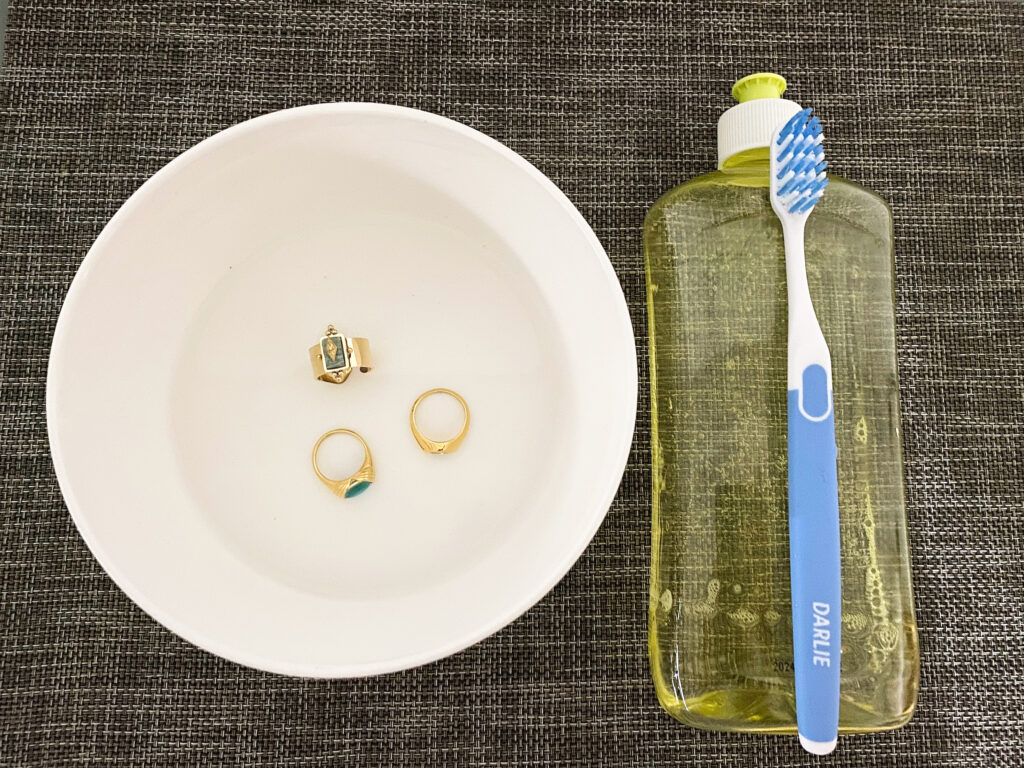 Step 1: Put some warm water in a bowl
Step 2: Pour some soft/mild detergent in the water and get it mixed
Step 3: Put your gemstone jewelry in the bowl and soak for 10-20 minutes
Step 4: Use soft toothbrush to scrub gently the gemstone and the back where may collect dust and greasy stuff.
Step 5: Rinse the gemstones with warm water
Step 6: Pat dry with a soft cloth.
While many gemstones can be easily cleaned at home by yourself, others need more specific care when cleaning to avoid damaging them. For all gemstones, it's best practice to avoid using cleaners with harsh chemicals like chlorine or bleach and to avoid using ammonia- based cleaners when working with organic gems, like when you clean pearls.
What Kind of Toothbrush You Should Use for Cleaning Gemstone Jewelry?
Toothbrushes that are designated "soft" or "extra-soft" can be easily purchased in stores. And these are fine for cleaning your gemstones jewelry at home. But please make sure not to choose toothbrushes that are designated with "medium" or "firm/hard", which are hard and inflexible. Jewelry settings that are made of platinum, gold and silver alloys are comparatively soft, and medium or hard toothbrushes could leave scratches easily on the settings.
How Often Should You Clean Your Gemstone Jewelry?
To keep your gemstones in good condition, you should clean your gemstone jewelry at least once a year.
What Can You Do to Keep Your Gemstone Jewelry Away from Damage?
1, removing your jewelry before baking, gardening, swimming and physical activities like sports and exercise.
2, Store them separately in padded box or soft cloth bag. For sterling silver items, you may want to store them in a sealed plastic bag and avoid sunlight.
3, Avoid exposing them to chemicals like hair products, cosmetics and fragrances.
What Gemstones Can't Be Cleaned with Ultrasonic or Steam Cleaners?
You may luckily have a steam cleaner at home or you can take your stones to a jewelry store and they have ultrasonic cleaners. But be noticed, emeralds, aquamarine, tanzanite, feldspar, fluorite, iolite, kunzite, lapis lazuli, malachite, opal, topaz, turquoise, and zircon.